Models

Services

Services

World's Top 10

World's Top 10

bauma 2022

bauma 2022
Latest News

About bauma

bauma in numbers

Topics, Industries & Divisions to be explored at bauma 2022

What do people say about bauma 2022?

History of bauma and past editions 
bauma Construction Machinery Trade Show 2022 News, Exhibitors, Logistics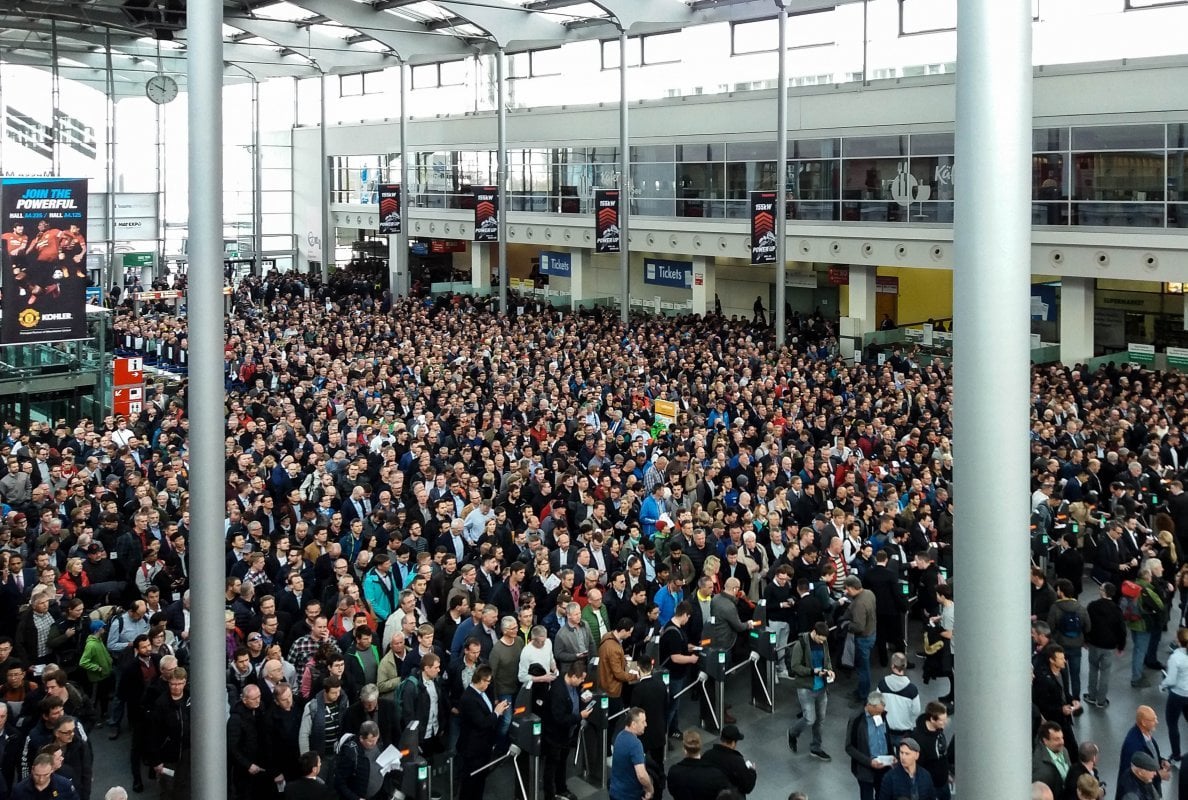 bauma. The world's largest construction trade fair. The last edition that took place in 2019 attracted over 3,600 exhibitors and almost 630,000 visitors from 217 countries to Messe München in Bavaria, Germany. Nevertheless, the pandemic caused by Covid-19 has limited organizers of many trade fairs, shows and events that have been either postponed or cancelled and bauma was no exception. Therefore, the upcoming 33rd edition will finally take place in October 2022. Stay tuned to LECTURA for news and important facts about the trade fair!
Latest News
04.08.2022 | Supporting program with info highlights

This year, in addition to the exhibitors and their exhibits, bauma will offer a comprehensive supporting program with many formats, some of which new. Among the strengths of the world's leading trade fair is its diverse supporting program. Here, established companies, start-ups, associations and research institutions will present ground-breaking solutions and discuss the top current trends in the industry.
bauma FORUM with a different key topic each day
This year knowledge transfer has a new central location in the bauma Innovation Hall LAB0. The bauma FORUM, with lectures, presentations and panel discussions, will be placed here, for example. From October 24 to 28, the forum program will focus on a different key topic of bauma each day. These range from "Construction methods and materials of tomorrow" to "Mining—sustainable, efficient and reliable" to "The road to zero emissions".
On October 24, the winners in the five categories of the bauma Innovation Award 2022 will also be presented in the forum. With this prize, the VDMA (Mechanical Engineering Industry Association), Messe München and the top associations of the German construction industry will honor research and development teams from companies and universities that are bringing practical leading technology for the construction, building materials and mining industry to market readiness. The prizewinners have an equal focus on resources, the environment and people.


Science Hub and Start-up Area
The Science Hub is located right next to the forum. In this area, ten universities and scientific institutes will provide information on the latest status of their research. Here, too, the key topics will offer structure.
Another segment of the Innovation Hall in the Internationales Congress Center München (ICM) is the revitalized Start-up Area, where promising young companies can present themselves to a specialist audience.
MiC 4.0 stand demonstrates new data interfaces
In order to develop a uniform, cross-manufacturer and machinery-independent communications form for the entire construction process, the VDMA and the Main Association of the German Construction Industry founded the "Machines in Construction 4.0" (MiC 4.0) working group at bauma 2019. One of the previous results is the MiC 4.0 Bus, which is an open, cross-manufacturer data interface between construction machinery and accessory equipment. At the MiC 4.0 stand in the LAB0 Innovation Hall, visitors can see a demonstration of the new interface in action.
The VR experience attracted many visitors back in 2019. At bauma 2022, this will switch focus to the digitization of construction sites. Visitors to the VR experience can immerse themselves in the construction sites of today and of tomorrow and experience the interactions between people and machines for themselves in the digital space. The bauma VR experience will once again be part of the LAB0 Innovation Hall this year.
Career prospects for young people
THINK BIG!—an initiative of the VDMA and Messe München—is primarily aimed at students. In the ICM, companies will present "Technology up close" with a large workshop show, hands-on activities, games and information about a future career in the industry.


19.07.2022 | Trade fair innovations powered by electricity

Zero-emission operation is one of the major trends in the construction machinery industry. Here's a first glimpse at the new products expected at bauma. 
To reduce greenhouse gas emissions in keeping with climate protection goals, more and more construction machinery and vehicles are being developed with electric drives. Other advantages are also driving this trend. For example, electric motors are quiet, which makes them suitable for use in low-noise areas—for example, near hospitals or at city construction sites. They also protect operators and the environment from exposure to direct exhaust fumes, making it possible for many work processes to be performed even in places with poor ventilation. Another benefit is that electric motors are regarded as low-maintenance and efficient, which means they ensure low operating and energy costs. So it makes sense that "The road to zero emissions" is also one of the key topics at this year's bauma. Many exhibitors have already announced brand-new e-solutions for the fair.
Reversible vibratory plate with battery
These include the first battery-powered reversible vibratory plate with a direct drive. The APU3050e from manufacturer Wacker Neuson uses the proven hydraulic adjustment system to change direction, just like in conventional models. With a working width of 50 cm and a centrifugal force of 30 kN, the machine is easy to control and has the lowest overall height of all reversible vibratory plates on the market, making it ideally suited for use in narrow trenches. 


​​​​​​​
Zero-emission compaction with e-tandem rollers
In the future, electrically driven tandem rollers can be the answer wherever zero-emission compaction is needed on a larger scale. Hamm AG will present eight models from the HD CompactLine series in their world premiere at bauma. They are powered by a maintenance-free lithium-ion battery with a capacity of around 23 kWh. In addition, the energy released by the traction and vibration motors during braking is used in recovery. The battery has enough capacity for an entire working day. The e-drive also significantly reduces noise emissions, making the e-tandem rollers suitable for all areas that require particularly quiet compaction. Because these settings also often require a low vibration load, the compaction specialist is introducing an electric combination roller with oscillation in addition to e-vibration and oscillation rollers.
All-electric concept for compact track loader
The T7X, still in the concept phase, is the world's first all-electric compact track loader. Its manufacturer, Bobcat, will use bauma to continue gathering customer feedback from different segments. Its aim is to be able to better assess market opportunities for the machine in Europe, the Middle East and Africa. With its 62-kWh lithium-ion battery pack, the T7X can operate continuously for four hours. Its mobile payload is just under 1,400 kg. In contrast to all other loaders worldwide, the new machine requires virtually no fluids: Bobcat has completely replaced the traditional hydraulic system with an electric drive system comprising electric cylinders and electric drive motors. The only liquid in the machine is about four liters of environmentally friendly coolant.
Concrete mixer with all-electric drive
Putzmeister envisions a future with all-electric concrete transport thanks to its iONTRON e-mixer. The vehicle's battery has a capacity of 350 kWh, which means that one battery charge is enough for five to six trips in urban areas—usually sufficient for an entire workday. The vehicle can simply be recharged if more trips are planned. The mixer can recharge to full power overnight at a DC charging station. Its virtually silent operation enables unrestricted use even in locations with strict noise regulations—a significant competitive advantage when it comes to bids in metropolitan areas. Rising prices for fossil fuels also make the e-drive an economical alternative.
Electrohydraulic lifting
The E-Pack from Tadano is an electrohydraulic system with an integrated 32 kW electric motor providing low-noise and emission-free crane operation. This solution was presented at the last bauma in 2019. At that time, it was only available for a single crane vehicle. At the world's leading trade fair this year, Tadano will show that, in the meantime, five of its AC cranes can be ordered with the E-Pack or existing cranes retrofitted with it. 
The Japanese manufacturer will also offer a preview of the world's first all-electric rough terrain crane. The machine is currently in an advanced development phase and is scheduled for market launch at the end of 2023. It will be able to drive to and from the job site and perform all lifting there using only the energy supplied by its batteries. 
Other exhibitors have already announced new e-machines, but want to wait for bauma to "let the cat out of the bag". These include the successor model to the 5055e all-wheel drive electric wheel loader from Kramer-Werke GmbH. In addition, the company promises a new electric telescopic loader—without revealing any further details right now. 


07.07.2022 | Prospects for sustainable mining​​​​​​​

With the bauma TALK series of webinars Messe München fed into the key topics of bauma 2022, which will take place from October 24 to 30 in Munich. The presentation and discussion event from June 29 dealt with the possibilities for mining to be even more reliable, efficient and sustainable in future.
Climate protection requires large volumes of sustainably sourced raw materials
To this end, Professor Elisabeth Clausen, Head of the Institute for Advanced Mining Technologies at the Rheinisch-Westfälische Technische Hochschule (RWTH) Aachen, carved out one of the central conditions for the mining of the future. "In order to achieve the transition toward a greener and where possible CO2-free society and economy, very large volumes of metals and mineral raw materials are required. Because recycling alone won't come close to covering this demand in the foreseeable future, sustainable and efficient mining has a key role to play," says the professor. When it comes to designing the mine of the future, she sees three main trends: automation, digitalization and electrification. She says they need to go hand in hand in order to reach their full potential. In her presentation, professor Clausen emphasized how important close cooperation between science and industry partners is for developing the necessary innovations. As an example, she pointed to the European H2020 project NexGen SIMS (Next Generation Carbon Neutral Pilots For Smart Intelligent Mining Systems). In this broad-based demonstration project, their institute is working together with numerous equipment suppliers and operators as well as other researchers on carbon-neutral, autonomous mining processes.
Developing standards for responsible mining
Another important factor for the mining of raw materials in future is its societal acceptance. "To do this, standards need to be developed that ensure the best available methods are used in the interests of the mining companies, the environment and the local population," explained Christophe Didier. The director for geo-resources at the French geological office BRGM is chairman of the ISO/TC 82/SC 7 committee founded in 2015. So far, the committee has dealt with the creation of international standards for decommissioning mines and reclamation management. "Today we face the challenge of expanding this spectrum to mining that's responsible on the whole," said Didier. This would be linked with a much more comprehensive agenda. "The goal is to minimize the impact of mining and maximize the benefits for stakeholders. And this applies over the entire lifecycle of a mine – from exploration to closure," he explained. A decision on the corresponding restructuring of the committee is to be made by the end of this year.


​​​​​​​
Good practical experience with autonomous processes
One mining operation that already has a good track record of autonomy and connectivity is Roy Hill. The company mines open pit iron ore in the Pilbara region of Western Australia. According to Michael Waller, Manager Interoperability at Roy Hill, excellent results have been achieved in a first step with autonomous blast hole drills. "Using appropriate connectivity solutions, we are able to operate these machines from our Remote Operations Center 1,600 kilometers away at the company's headquarters in Perth," said Waller. On the way to the envisioned fully autonomous mine, Roy Hill is currently carrying out the world's largest autonomous haulage solution (AHS) project of its kind, starting with ten independent dump trucks. What is particularly noteworthy is that the selected system works independently of the vehicle manufacturers. This means it will be possible for around 100 haul trucks from the company's mixed fleet to work autonomously with the same solution in the future. "We expect advancing automation to bring increased safety, improved productivity and reduced variability. Through automation, we can also offer our employees rewarding career opportunities under more pleasant working conditions, which increases our attractiveness as an employer," he explained, adding: "Last but not least, the combined advantages of automation, connectivity and energy efficiency allows us to maximize our mining activities while minimizing the environmental and social impacts of our operations."
With advanced sensor and communication technologies, data can be obtained at many different points in the mining industry. According to Eduardo Lima, Global Product Manager Digital Mining at the engineering company ABB Switzerland, this information can be fed into a higher-level system and systematized. This in turn will form the basis for graduated automation.


30.05.2022 | Overcoming the hurdles of digital construction sites
A number of barriers standing in the way of digital construction sites—particularly the lack of data standards—must be eliminated. Industry experts will explore the challenges and solutions during bauma TALK.
The webinar series bauma TALK acts as a base of information for bauma 2022 and delves into the key topics of the construction-machinery trade fair that will be held from October 24 to 30 in Munich. The latest presentation and discussion event was held on May 24 and focused on the digitalization of construction sites. In particular, the conference highlighted the key role that machinery data is already playing in efficient construction practices—from predictive maintenance to smooth transport and logistics operations and many other construction site processes. Alexander Mozer, the team leader of machinery digitalization at the major German construction company LEONHARD WEISS, discussed some of the technologies involved: "In terms of CO2 emissions, telematics can provide us with important information about the fuel consumption of every piece of machinery. Digital position information helps reduce search times, and automatically collected operating hours are an important parameter used in maintenance planning and invoicing."

But the jobs of integration and management are complicated by several factors: the different interfaces used by various manufacturers, sensing accuracy and intervals as well as data interpretation. "The simple job of adding or deleting a piece of machinery to or from a system can end up being a very time-consuming process," Mozer says.


 MiC 4.0: working on uniform digital communications
As a way of clearing these fundamental hurdles, the German Mechanical Engineering Association (VDMA) and the Main Association of the German Construction Industry (HDB) set up a working group called Machines in Construction 4.0 (MiC 4.0) at bauma 2019. "Our goal is to develop a uniform, cross-manufacturer and machinery-independent communications form for the entire construction process," said Michael Tonke, a member of the Committee for Construction Machinery Technology and Construction Logistics at the construction industry association. At the moment, 105 members from seven countries are developing sub-aspects of MiC 4.0 in 31 working groups.
New bus solution at the data interface machinery/accessory tools
Construction machinery is far from the only thing that is getting smarter. Digitalization of tools that can be combined with them is progressing as well. "Good solutions are already being widely used in the hydraulic and electric interfaces to accessory equipment. But the job of facilitating cross-manufacturer data transmissions between components has run into some massive problems," said Katharina Schick, a project engineer at Liebherr-Hydaulikbagger GmbH. In response, a MiC 4.0 working group has been developing an open, manufacturer-independent data interface—the MiC 4.0 bus—over the past two years, Schick said. "We conducted some promising tests with it on an excavator in April 2022," she said.

A demonstrator of the new interface will be presented during bauma at the MiC 4.0 booth in the LAB0 innovation hall. The interface protocol will be released by the German Mechanical Engineering Association after the trade fair has concluded and the final work has been completed.
Connectivity module links to the construction-site control system
Jürgen Weber, a doctor of engineering who holds the chair of fluid-mechatronic system engineering at the Technical University of Dresden and heads the association research project called Bauen 4.0 (Construction 4.0), has found that non-homogeneous fleets of machinery with their various data solutions are far from the sole cause of problems related to the development of the vision of a digital construction site. "In many cases, there is simply no mobile Internet available. The required network coverage does not exist," the expert said. As a potential solution, he presented a concept that combines a local network with a construction-site control system. In this solution, programs that can perform such jobs as record and analyze all machinery data as well as simulate construction processes in real time run on a server. "The machinery must be outfitted with a connectivity module that enables it to exchange data with the central construction-site control system and with other machines," Professor Weber said. A platform-independent OPC Unified Architecture is used as a standard to facilitate communications and networking.
Other work is under way to close the gap separating research from the market readiness of the digitalized construction site of the future. As part of these efforts, the non-profit company Construction Future Lab GmbH was recently set up in the eastern German city of Görlitz to serve as a neutral partner for interested companies and research institutions.



02.05.2022 | Autonomous construction machines as a development goal
The development of autonomous construction machines is currently among the main goals of manufacturers and research institutes alike. Accordingly, many aspects of this topic will be echoed at bauma, which will take place in Munich from October 24–30, 2022.
Machines that drive and work autonomously are among the big visions for the future of the construction industry. "However, 'true' autonomy in construction machines is highly unlikely in the foreseeable future, because—unlike in the self-contained working environment of a quarry or mine, for example—there are complex technical and safety-related challenges," says Tim-Oliver Müller. The Director of the Hauptverband der Deutschen Bauindustrie e.V. believes that it is far more realistic and achievable for the construction industry to develop and use "intelligent" construction machines with semi-automated, automated or supporting functions—and to do so for selected construction processes, such as in earthwork, road construction or special heavy construction. "Such solutions have the potential for noticeable increases in efficiency and productivity," Müller says. They could relieve the machine operators of repetitive and tiring activities. The industry expert points out that intelligent machines would also be independent of their individual tasks—an advantage that's not to be underestimated in times when there is a shortage of skilled workers.
A discussion of the current situation on the path to autonomous or at least intelligent construction machines is possible at bauma 2022, the world's leading trade fair for construction machinery, building material machines, mining machines, construction vehicles and construction equipment.
MiC 4.0: Laying the foundations for the construction site of the future
Firstly, in order to enable partial automation even on more complex construction sites, cross-manufacturer machine-to-machine communication is essential. Together with the Main Association of the German Construction Industry (HDB), the Mechanical Engineering Industry Association e. V. (VDMA) wants to create the best conditions for this. For this reason, the associations founded the "Machines in Construction 4.0" (MiC 4.0) working group at bauma 2019. "We currently have 105 members from seven nations, and 31 working groups," reports Dr. Darius Soßdorf, the managing director of MiC 4.0. In order for processes on construction sites to run in a more digital, more intelligent and ultimately more autonomous way in future, things like data on the status of machines need to be standardized. This starts with the information on whether a machine is on or off. "While manufacturers have so far defined this for their products themselves, this now applies to all manufacturers who are committed to MiC 4.0: In any construction machine with an internal combustion engine that sends the signal 'on', the crankshaft of the engine rotates," says Soßdorf. He claims that the joint approach implemented here is entirely new and unique.
This and many other results achieved by MiC 4.0 in the last three years will be presented to the specialist audience in the innovation hall LAB0 at bauma. In addition to the presentation of the documents developed, there will also be a physical demonstration.


Cobots reduce the process time
Maximilian Schöberl from the Chair of Materials Handling, Material Flow, Logistics at the Technical University of Munich expects that, ten years from now, various cobots will be active on construction sites. The term "cobot" is a portmanteau of "collaboration" and "robot". It refers to robots designed for direct collaboration with humans. Schöberl and a research team from the chair expected to see developments in this direction in the form of a commercially viable, radio-controlled vibratory plate compactor. This was initially made "automation-ready" with appropriate sensors and control units. Ultimately the scientists coupled the machine to an excavator in the follow-the-leader principle: The excavator created a plane, while the vibratory plate compactor constantly followed it around independently, packing down the bulk. "As a result, the cooperation enabled work steps to be switched in parallel and, in the ideal case, halved the process time," reports Schöberl.
Mobile robots equipped with sensors for inspection tasks
Can robots help to monitor the status of construction projects, such as the 3.6 km-long Köhlbrand Bridge in Hamburg? That's one of the questions being worked on by researchers from the Institute for Digital and Autonomous Construction from the Technical University of Hamburg. To do so, they are using a four-legged mobile robot, the I-DOG. The machine is about the size of a poodle and is equipped with sensors for measuring, processing and analyzing data on building structures. It is also capable of recording and analyzing vibrations, which can be used to detect structural damage.
For its precise localization in space—one of the key requirements of autonomous mobile systems—this mechanical sniffer dog uses Light Detection and Ranging (LiDAR) technology, which allows conclusions to be drawn about its own location based on laser scans.
The aforementioned Hamburg Köhlbrand Bridge acts as a reference object in a project kicked off recently. To carry out inspections, several I-DOGs are to move around on the monumental construction project, which was put into operation in 1974 and is listed as a cultural monument. They will collect their own data and take on data generated by intelligent sensors permanently installed in the bridge. "The goal is to have robot fleets that communicate with each other. By combining sensor data, a comprehensive picture of the condition of the building is created with comparatively little effort. We can then enter this into a digital model—for example for renovation planning," says project manager Prof. Kay Smarsly. You can likewise find out more about the I-DOG and its possible applications in the innovation hall LAB0 at the "Science Hub" stand.


28.03.2022 | Construction processes and materials for the challenges of our time
Climate change, finite natural resources, the lack of specialist staff: the global construction machinery industry too must face up to today's big problems. Modern construction processes and materials could be part of the solution. bauma, which will take place in Munich from October 24–30, 2022, will provide a comprehensive overview of the latest technologies and major developments in this area.
Sourcing and processing building materials, the construction process itself, maintenance and the demolition of buildings and other items of infrastructure result in significant carbon dioxide emissions. Cement production for example is responsible for eight percent of global CO2 emissions. According to the British think tank Chatham House, the cement industry would be the third largest CO2 emitter after China and the U.S. if it were a country. Only a third of the emissions results from burning fossil fuels such as coal or petroleum coke: the largest part is released when limestone is broken down as part of the process.


CCU and CCS in the cement industry
"If we want to make significant improvements here, some fundamental technological changes need to take place," says Christoph Danner, an expert for construction machines and construction material systems at Verband Deutscher Maschinen- und Anlagenbau e. V. (VDMA). In his opinion, one option offering great potential is to capture CO2 and then use it (Carbon Capture and Utilization (CCU)) or to store it safely and on a permanent basis in deep-lying geological layers of rock (Carbon Capture and Storage (CCS)). "This way, 95 percent of the carbon dioxide released during cement production could be captured," said Danner. The first CO2 capturing facility for cement production in Germany is currently being built in Rohrdorf. According to the plans, it will go into operation by the end of June 2022 and then capture two tons of carbon dioxide every day which can then be used by the regional chemical industry.
Conserving resources through recycling
In addition to measures to protect the climate, the construction industry also faces calls to save raw materials in the future. In recent years, sand has become the focus of public attention. After all, it is the most widely used material yet it is becoming increasingly scarce. One way to conserve resources is to process demolition materials on location using modern crushing and screening technologies so that they can be reused there and then in new construction projects. "This will not only ease the burden on natural sources. It will also help to avoid transporting materials, greenhouse gas emissions, noise and air pollution in densely populated urban areas," says Alexandre Marchetta, the President of the Committee for European Construction Equipment (CECE, Brussels).
Modern technologies are making construction professions more attractive
As a further challenge, the global construction boom requires an increase in productivity. "Given the lack of specialist staff, this problem can no longer be solved simply by using 'more people'," says Tim-Oliver Müller, Director of Hauptverband der Deutschen Bauindustrie e.V. Instead, the focus should be on digital working methods, innovative products and machines and the opportunities offered by industrial and, increasingly, AI-assisted processes. "Areas which young people are interested in and which would increase not only productivity but also the attractiveness of the sector," says Müller. In his opinion, modern construction machinery too plays an important role. "We are already seeing increasing numbers of apprentices who are learning to drive construction machines for example. This indicates that the profession is becoming much more attractive again. This is mainly down to the fact that driver cabins are becoming increasingly digital and more comfortable," says the sector expert.
Less but highly qualified personnel
At the same time, the construction machinery industry is aiming to produce just as much or even more than before with fewer specialists. "Serial construction and 3D concrete printing offer opportunities for this," says the VDMA expert Danner. He adds: "Serial construction has been an established process for many years. With largely ready-made construction products, it allows construction work to take place with fewer workers on site. Additive manufacturing which is becoming increasingly advanced will have a similar effect. Here, the use of printing robots allows staff savings."


15.03.2022 |  The international bauma Innovation Award will be presented for the 13th time at bauma 2022
·      Applications possible until May 3
·      Categories have been revised
·      Presentation of the award on the eve of the opening of the trade fair at the Munich Residence
The competition is a joint initiative between bauma and well-known trade association. Exhibitors can still enter the competition until May 3. The presentation of the bauma Innovation Award traditionally takes place on the eve of the opening of the trade fair at the Munich Residence.



The winners of the bauma Innovation Award 2019

Innovations that have not yet been advertised at other trade fairs or have already received an award are eligible.
Participants can submit their entries by using the template in the web portal. In order to reflect technical progress and social and political developments, the responsible members of the Task Force have revised the categories. They are:
● Category 1 Climate protection
● Category 2 Digitalisation
● Category 3 Mechanical engineering
● Category 4 Building
● Category 5 Research
VDMA Construction—Equipment and Plant Engineering and VDMA Mining, together with Messe München and the partner associations HDB, ZDB and bbs, are conducting the multi-stage competition process and hosting the awards ceremony in the Max-Joseph-Hall of the Munich Residence.

Sources: © Copyright 2019, Messe München GmbH, all rights reserved


 19.01.2022 |  Construction and mining machinery industry getting ready for bauma 2022
● 97 percent of available space confirmed
● Mining sector to be broadly represented once again in 2022
● bauma to offer its first series of webinars
 
More than 10 months before bauma opens its doors in Munich from October 24–30, the world's leading trade fair for construction machinery, building material machines, mining machines, construction vehicles and construction equipment is expecting a very high level of participation: 97 percent of the available space has already been confirmed by exhibiting companies.
The numbers have given Klaus Dittrich, Chairman and CEO of Messe München, a reason to be very optimistic about the upcoming fair: "This feedback is a clear signal of our customers' intention to take part in bauma. In the personal conversa-tions we have with exhibitors and visitors, we hear one thing over and over again: They are really looking forward to having face-to-face discussions and, of course, to experiencing the special atmosphere that only bauma can create. I am really confident that the situation will soon have improved to the point that we will be able to put on an exciting bauma that will attract a large number of international companies and visitors." Read more on LECTURA Press.
Read more on LECTURA Press.
About bauma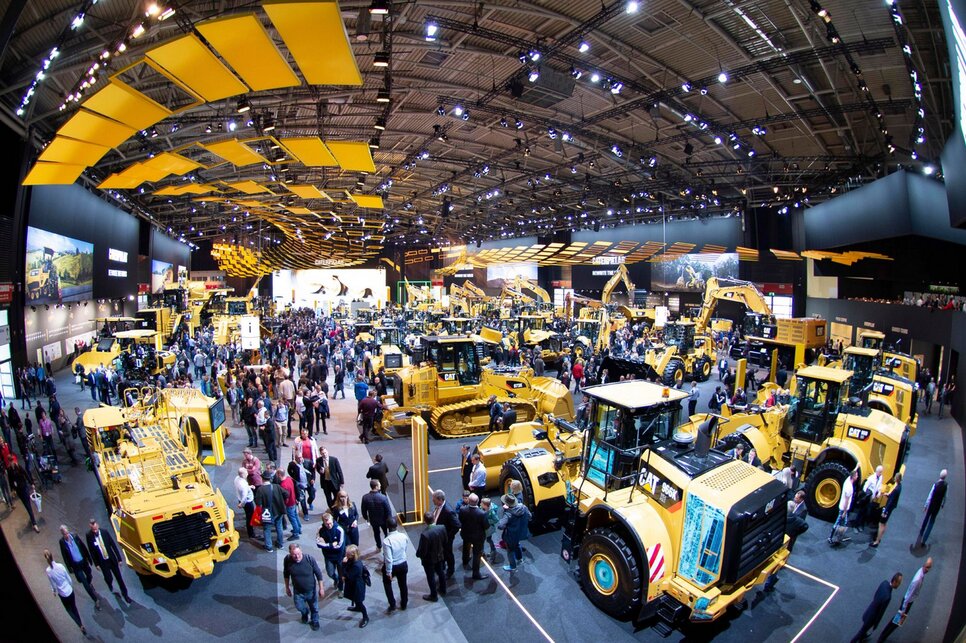 Known as the World's Leading Trade Fair for Construction Machinery, Building Material Machines, Mining Machines, Construction Vehicles and Construction Equipment, bauma is the phenomenon that drives the international machinery market forward. It is the event that sets the tone (and the trends) in all the equipment industries and answers to both exhibitors and visitors that chose to attend it to two essential questions: what is going on in the machinery world and what does the future look like?
The high standards of innovation is the key factor that attracts with each edition more and more global key players and innovation drivers at Messe München and contributes to the worldwide reputation of the European fair. The huge number of high-quality and innovative industry solutions helped 95% of visitors of the 2019 bauma edition to achieve their goals, who expressed the desire to come back, according to the post bauma report. 
More than a trade fair
bauma is not just an enormous exposition of machines, but a one of a kind experience that has a lot to offer to its visitors and exhibitors: a complete overview of the construction, building materials and mining machinery industry, access to existing and new markets and contacts with experts and decision-makers with a pronounced willingness to invest.
Opens new business fields: bauma brings together the international key players and offers access to all markets and target groups, opening new business fields.
Gives comprehensive industry insights. The German trade fair offers a complete overview of all innovations, technologies and trends.
Is the world's largest meeting place for the industry: 600,000 participants, a new layout and even more space make bauma the world's largest meeting place for the industry. And the most relevant.
Brings focus on what is actual and relevant. On everything that makes the industry tick and that changes it, including hot topics like efficiency, digitization and sustainability.
Is the core of the machinery industry. bauma drives the market and promotes business sustainably and globally.
 
Sources: © Copyright 2019, Messe München GmbH, all rights reserved.
bauma in numbers


Every three years, Messe München hosts the highest density of market participants in the industry. The previous edition of bauma, which took place in 2019, gathered no less than 3,684 exhibitors (from 62 countries and regions) and nearly 630,000 visitors (from 217 countries and regions) from the global construction, building materials and mining industries, plus 1.392 accredited journalists from 39 countries. 



Experts, machines and visitors had no less than 614.000 m² of exhibition space at their disposal: 200,000 m2 of hall space and 414,000 m2 of outdoor area. 




Highlights of the 2019 edition




One of the most important traits of bauma is the internationality of its audience (visitors and exhibitors). See from which continent and country came the biggest number of visitors and which country had the most exhibitors at the 2019 edition, their profile and area of interest, in the charts below:




Sources: © Copyright 2019, Messe München GmbH, all rights reserved.
Topics, Industries & Divisions to be explored at bauma 2022


This year's Topics 
This year's edition of bauma will try to find as many answers as possible to the question: What is the future of the construction machinery sector? Attendees of bauma 2022 will try to find out the answers throughout all exhibition areas including the bauma LAB0 innovation hall. Live presentations, discussion rounds and keynotes in the supporting program provide an outlook on the most important challenges and goals of the construction machinery industry:
✔️ Construction methods and materials of tomorrow
3D printing, modular construction, new materials
✔️ The way to autonomous machines
Human Machine Interfaces (HMI), assistance and safety systems, robots on construction sites
✔️ Mining - sustainable, efficient and reliable
OPC UA - the digitalisation of mining, live demonstrations, environmental compatibility and recultivation
✔️ Digital construction site
Virtual reality, digital twins, BIM, M2M communication
✔️ The way to Zero Emission
From C02-reduced materials to hybrid vehicles and complete electric drive systems


For the 2022 edition, which will take place between 24-30 October, bauma organisers have prepared a lot of Exhibition sectors.
❗
All around construction sites
★ Construction vehicles
★ Construction machines
★ Lifting appliances and conveyors
★ Construction equipment, tools and special systems
★ Handling and processing concrete and mortar at construction sites
★ Formwork and scaffoldings
★ Site installation
★ Construction site safety
★ Construction monitoring
★ Digital construction site


❗Mining, extraction and processing of raw materials

★ Machines for extraction of raw materials and for mining

★ Handling of raw materials

★ Mineral processing (incl. coke oven equipment)

★ Mining exhibition

★ Machines for mining and extraction of raw materials

★ Mining
 
❗Production of building materials
★ Manufacture of cement, lime and gypsum compounds for building materials
★ Machines and systems for producing concrete, concrete products and pre-fabricated components and 3D printing
★ Machines and plants for producing asphalt
★ Machines and plants for producing pre-mixed dry mortar, plaster, screed and building supply store products
★ Machines and plants for producing lime sandstone and building products using power plant residue (fly ash, slag, etc.)
★ Machines and systems for producing gypsum and gypsum plasterboard
★ Building material handling and packaging (in a plant)

Components and service suppliers




★ Transmission engineering, fluid technology and power generation units

★ Accessories and wear parts

★ Machines and systems for additive manufacturing, 3D printing of wearing parts

★ Services

★ Test, measurement and process control engineering

★ Communication and navigation

★ Job safety
Sources: © Copyright 2019, Messe München GmbH, all rights reserved.  
What do people say about bauma 2022?
What will bauma 2022 edition look like? How many people will attend? What have the organisers prepared? Will the trade fair live up to the exhibitors and visitors' expectations? What has changed, and what remains the same? Will this edition be as impressive as the previous ones? Are exhibitors still willing to pay for exposing their machines and solutions at bauma, or lack the financial resources to do that?
While we cannot (still) find the answers to all above questions, we managed to find out the answers for the ones that matter the most at this moment: Are exhibitors and visitors still interested to attend bauma or not, and what is the reason behind their decision; have the expectations for those who are planning to participate remained the same; do people even know when the trade fair will take place; what are the topics that they are most interested about from the list that the organisers have prepared for them this year; and most importantly: what is the outcome that they expect to get from bauma 2022?

All the answers and their results are included in the online bauma survey that LECTURA ran among heavy equipment industry professionals - LECTURA Specs website audience (over 1,2 million visitors monthly). The survey was available on the English, Spanish, French, Polish, Italian, and German language versions of LECTURA Specs pages from 21st December 2021 to 9th January 2022 (three weeks) and consisted of 9 questions asking about the attendance of the current edition as well as the previous one. Next, the goals and expectations on bauma 2022 were inspected as well as awareness of organisational issues. Also some focus was given to reasons for not attending the 2022 edition.


In total, 49.603 respondents from all around the world participated in the survey. Respondents are mostly based in European nations, with most responses from Germany (2884), France (801) and Austria (766). Most of these people that plan to attend bauma 2022 identified themselves to be machine owners (25,0%) or contractors (24,7%). To a lesser extent, service providers (10.8%), OEMs (12.8%) and dealers (10.4%) are represented in the survey sample, as well as decision-makers (6.7%) and rental companies representatives (3.4%).
81.4% of survey respondents attend the event as visitors; 13.9% plan to attend as exhibitors and 4,6% represent press.
Key takeaways of the bauma survey
Almost 90% of bauma 2022 will be the attendants of the last edition
If the last edition attendees do not plan to be in this year, it mainly due to the covid-related restrictions
The most anticipated topics of the five scheduled are 
Construction methods and materials of tomorrow
The road to zero emissions
Though the exhibitors are mostly focused on preparing investments, visitors and press representatives are looking forward to exploring the latest innovations and technology
Of the people that announced their attendance on 2022 bauma edition, almost 60% do not know the event was rescheduled for autumn
Among exhibitors, it is more than 70%, among visitors almost 60%
Though press representatives seems to be informed the best, still almost 50% do not know about the change
History of bauma and past editions 
The trade fair's evolution in time

bauma's audience is significantly increasing with each edition. Here's a little insight on how the distribution of trade fair's visitors from abroad as opposed to those in Germany, evolved along the years (2007-2019).



The fact that bauma is the place to be for industry professionals is also reflected in the increasing number of exhibitors from all over the world that have chosen to attend the trade fair: 

Sources: © Copyright 2019, Messe München GmbH, all rights reserved.
Heavy machinery shows and events
Neumünster, Germany
September 7-11
Nürnberg, Germany
September 14-17
Stay up-to-date!
Get hand-picked top machinery and industry news